It's been a busy several months over here at Osgoode Properties! Our Construction Manager, Todd Davies, and his trusted sidekick Maya The Construction Dog have been leading our team through a wide range of construction projects at several of our buildings across Ottawa, Gatineau, and Kingston.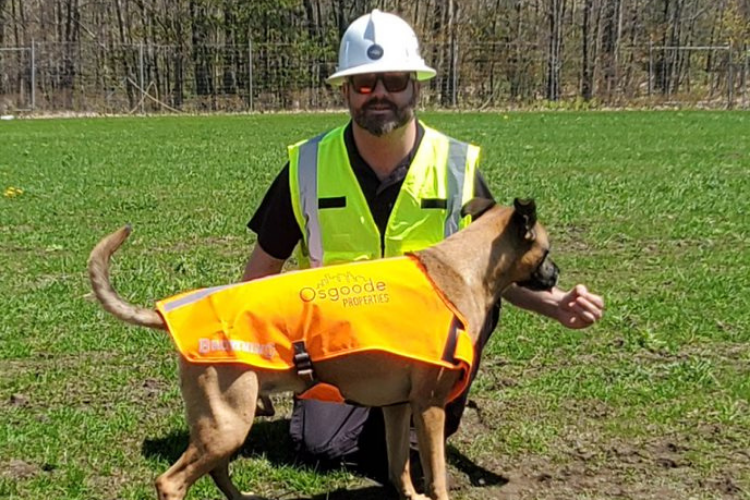 Let's take a closer look!
Balcony Restoration – Westview Apartments – Kingston
Working with Bassi Construction and their sub-contractors from Mascon, we completed a full-scale balcony restoration at Westview Apartments in Kingston. This project consisted of the installation of new framing, balconies, railings, and waterproofing systems. We are so pleased with the results!
Watch the video here.
Stone Façade Installation – Kingsview Apartments – Ottawa
Kingsview Apartments in Ottawa was due for an exterior facelift. Collaborating with the team at Capital Royal Renovations, we installed a brand-new stone façade around the front of the building. To finish off the look, we planted beautiful flora to add some life and colour to the property.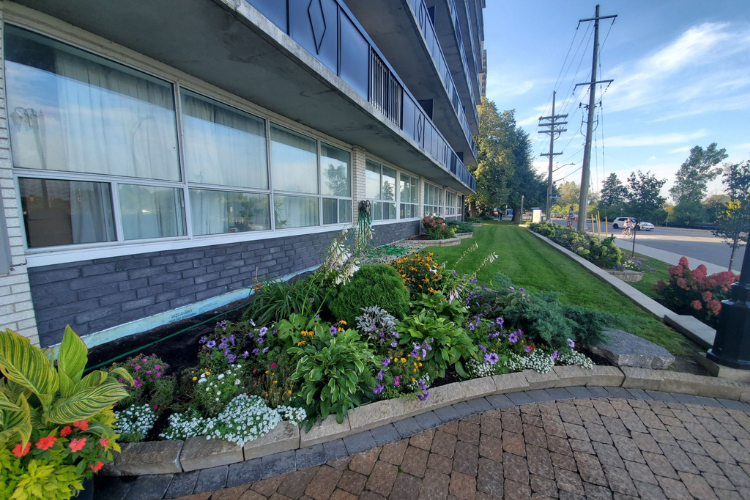 Newly Paved Visitor's Parking – Parkway Towers – Ottawa
Thanks to the team at D-Squared Construction, the visitor's parking at Parkway Towers in Ottawa is looking fine! This construction project involved the installation of new CIP curbing, a fresh coat of asphalt, and new line painting to top it all off. Talk about curb appeal! We executed this exact project at 11 other buildings across Ottawa and couldn't be happier with the finished product!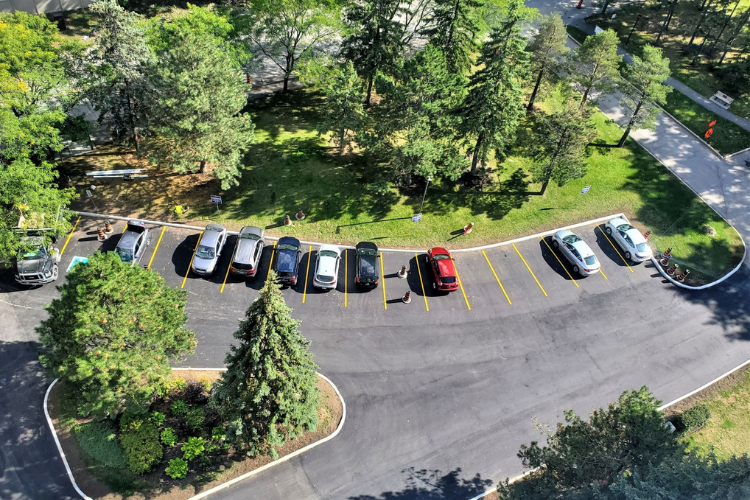 Watch the video here.
Architectural Wood Cladding Installation – Bayridge Apartments – Kingston
The newly installed architectural wood cladding is looking fine over at Bayridge Apartments in Kingston! Timber cladding offers an array of benefits. It's easy to install, it protects the walls from the elements, it filters and minimizes noise, it's extremely durable and it's more environmentally friendly. Special thanks to the team at Maddison Construction for a job well done!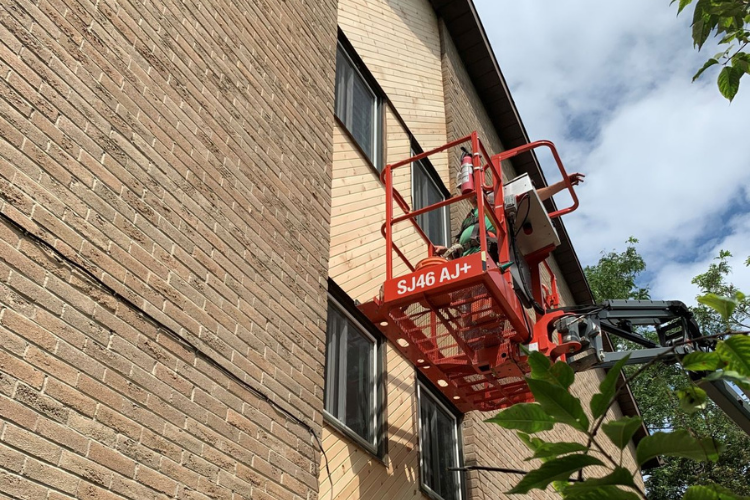 Emergency Generator Installation – 4 Properties – Ottawa/Gatineau
With the help of the crews at Carleton Electric and LRL Associates Ltd., Riverside Towers, Riverton Park, Lakeview Apartments, and Le 700 St. Joseph have all been equipped with new emergency generators. These generators will ensure the building maintains power in the event of an outage. Shout out to the teams for a job well done!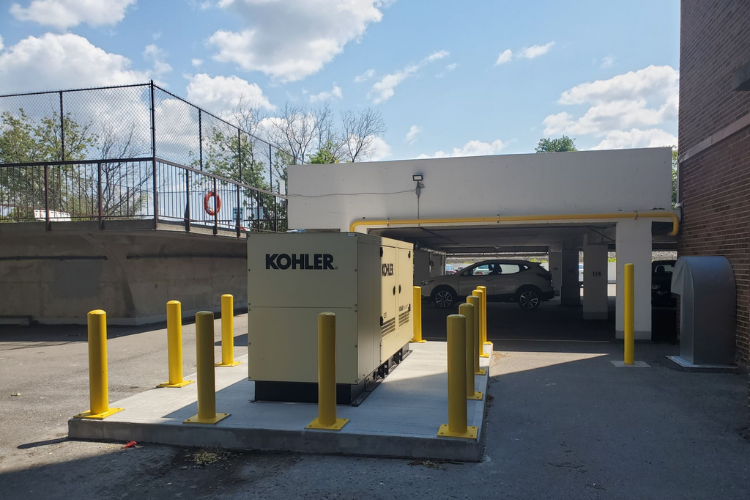 Backflow Preventer Installation – 11 Properties – Ottawa
In order to maintain compliance with the City of Ottawa's Backflow Prevention Program, Osgoode Properties completed the installation of backflow preventers at all of its buildings across Ottawa. These systems protect drinking water quality by ensuring the appropriate installation and inspection of devices that prevent contaminated water from flowing back into the City's water distribution system. Thank you to Tourangeau Mechanical Plumbing for their work on the surveys, engineering, and installation of these devices!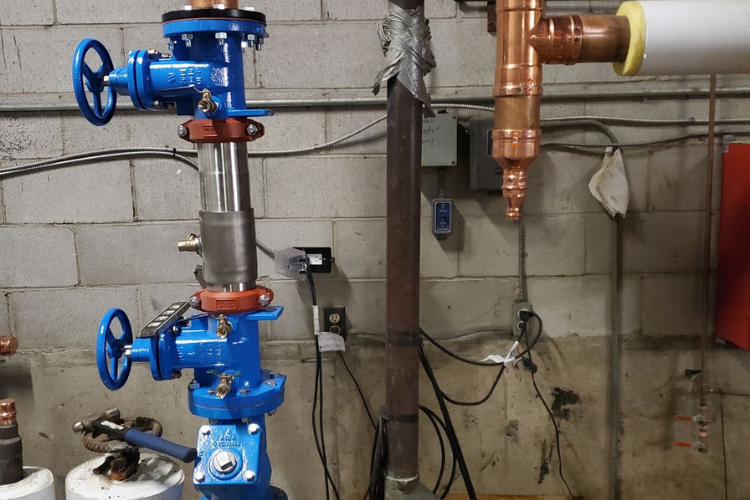 Pool Rehabilitation – Faircrest Apartments – Ottawa
Working with the teams at Maddison Construction and Poolworks we completed a pool restoration at Faircrest Apartments in Ottawa. This construction project included localized concrete repairs, new electrical grounding, new epoxy-based pool paint, as well as installation of landscape pavers and Astroturf in the pool area. This project was completed during the COVID-19 pandemic amenity shutdown, so next season our residents can enjoy a full summer of poolside fun!
Garage Restoration – The Oaks – Ottawa
Starting in 2020, we began a full-scale parking garage restoration at The Oaks Apartments in Ottawa. Working with the crews at Alti Construction Ltd. and Cleland Jardine Engineering, the scope of work for this project included localized concrete repairs, a new waterproofing system, new expansion joints with concrete caps, updated draining and plumbing system, new LED lighting and the installation of new pedestrian stairs. This project wrapped up in August 2021 and we are thrilled with the final product. Thanks again to all our residents for their patience throughout this project!
Watch the video here.
Suite Upgrade Program – 7 Properties – Ottawa
Over the past year, we've also rolled out a Suite Upgrade Program. As part of this program, we update vacant suites with new finishes prior to renting them again. These upgrades include everything from LVP flooring to granite counters, updated cabinetry, and more. To date, we have completed 8 full unit renovations with 2 ongoing and 2 more scheduled for this month.
We weren't kidding when we said it's been a busy construction season!
At Osgoode Properties, we are dedicated to going above and beyond for our residents and the community, and part of that commitment is offering impeccably maintained, continually updated and amenity-rich buildings in great neighbourhoods.
Thank you again to our partners for all their hard work and professionalism. We are incredibly fortunate to work with such amazing crews and we look forward to teaming up again. Maya is already planning for next year!