With a new year officially in full swing, there's no time like the present to give your space a fresh start! Decluttering is no easy task; we know that it can be daunting, especially after accumulating even more goods during the holiday season. We've collected a few tips to help you get your home back on track, just in time for 2022!
Start Small
Big goals are great, but if you find yourself becoming overwhelmed with your original decluttering plan, it's time to scale back, and simply focus on one item at a time. For example, begin by focusing on one space in your home, like the bedroom. We suggest clearing off and organizing two spaces, like a dresser and a nightstand, before tackling a bigger project such as your closet. Once those smaller spaces feel cleaner, you can move on to the larger areas.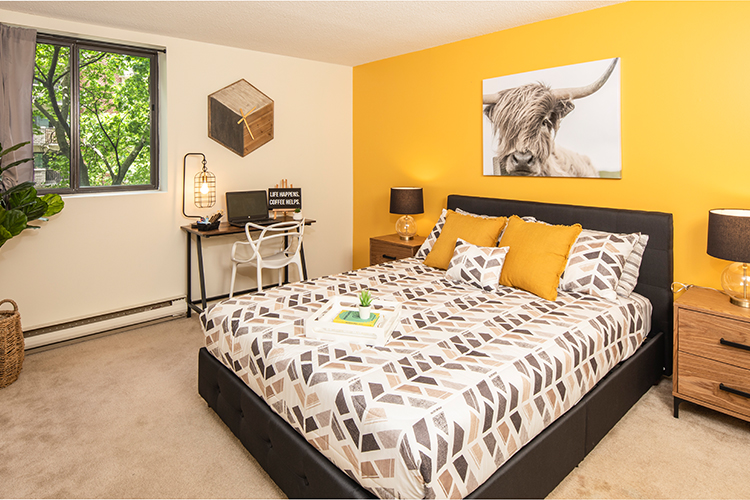 Photo: Lincoln Park Tower Apartments
Get Smart with Storage
Whether you live with a large family or by yourself, it's easy to accumulate a lot of things over time. The easiest way to make your home feel less cluttered is to invest in (or DIY!) storage solutions – each and every item in your home should have its own dedicated space to be returned to after use. Let's talk specifics – for your entryway, create a 'drop station' to hold your daily items. This can be something like a tray or a small basket where you and your cohabitants can drop essentials like keys, mail, a wallet, or purse. In your living room, keep the clutter away by curating what is displayed on your bookshelves and coffee tables, and by giving yourself the permission to donate or to put anything you don't enjoy looking at anymore into storage. If you have the budget, invest in furniture pieces that feature hidden storage, such as an ottoman, or a side table.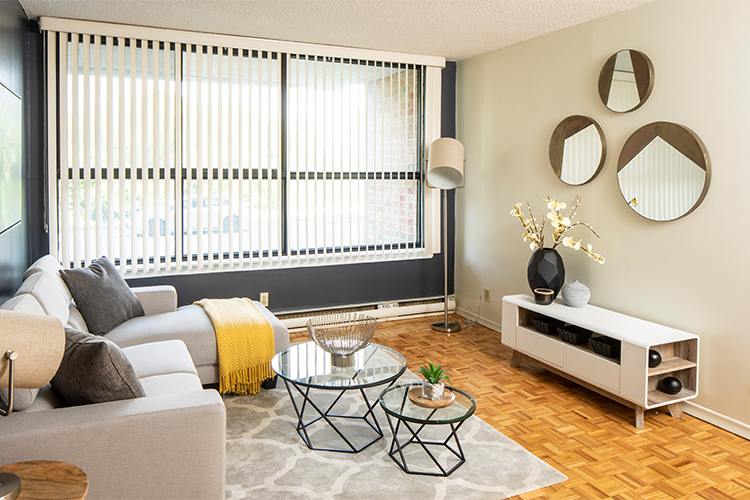 Photo: Riverton Park Apartments
Organization Methods
For the rooms that got extra crazy during the holidays, try an organization method known as the four-box method. Get four boxes (or bags) and label them trash, give away, keep, and re-locate. Go through each space in your home, sort through all the items causing clutter, and put them into one of the four bags. This is one of the fastest ways to get yourself organized – and also a wonderful way to donate to charity or clothing donation bins.
Another way to get organized quickly is to take the 12-12-12 challenge! Challenge yourself to locate 12 pieces in your space that should be thrown away, 12 pieces that can be donated or given to a friend, and 12 pieces that you can move to a new location within your home.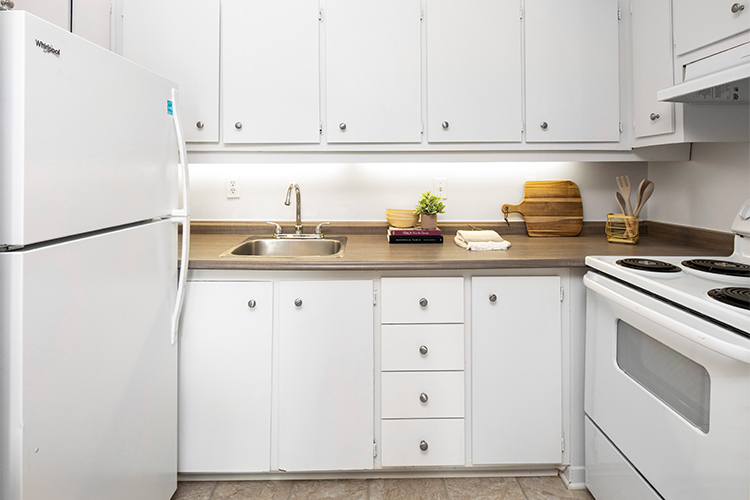 Photo: Le Faubourg de L'ile Apartments
Give Everything a Home
As previously mentioned, it's much easier to keep your home decluttered when everything in it has a specific place to go! In your kitchen and bathroom areas, try labelling containers for different items. Also in your bathroom, keep all your hair products in one drawer. When you do your hair, make sure the products used return to their home in that drawer. If you have children or pets, create storage solutions using baskets or trunks, and ensure that everything, including toys and games, gets returned to where they are supposed to go when they're done playing.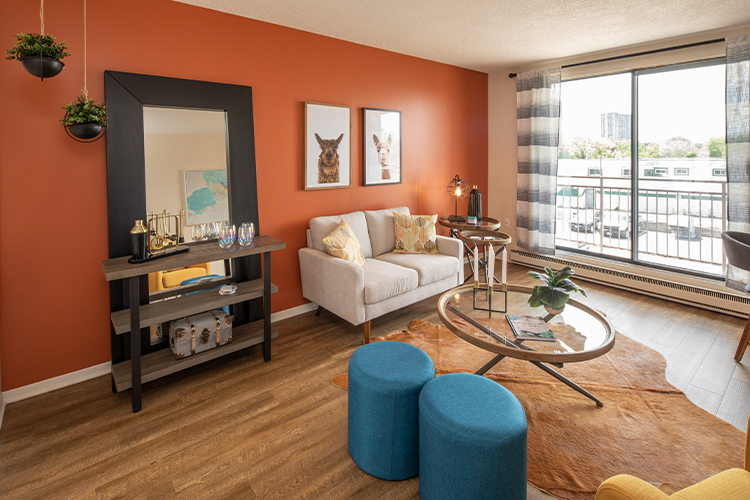 Photo: Lakeview Apartments
Last but certainly not least, patience is key. Decluttering your home isn't something that can be done overnight and the more efficiently your space has been designed, the less cluttered it will become over time. This is a process that can take a while – so make sure to celebrate and enjoy your organizational wins!
In the second part of this blog series, we'll be covering some helpful design tips for spaces of all sizes and styles. Make sure to keep an eye out for part two, happy decluttering!