A short walk from the scenic Ottawa River in the city's west end, Parkway Towers is an apartment complex that truly has it all. In this blog post, we're looking at why Parkway Towers might be the perfect place for you to call home, from its convenient location and beautiful views overlooking the Ottawa River and Gatineau Hills to friendly on-site staff and spacious suites.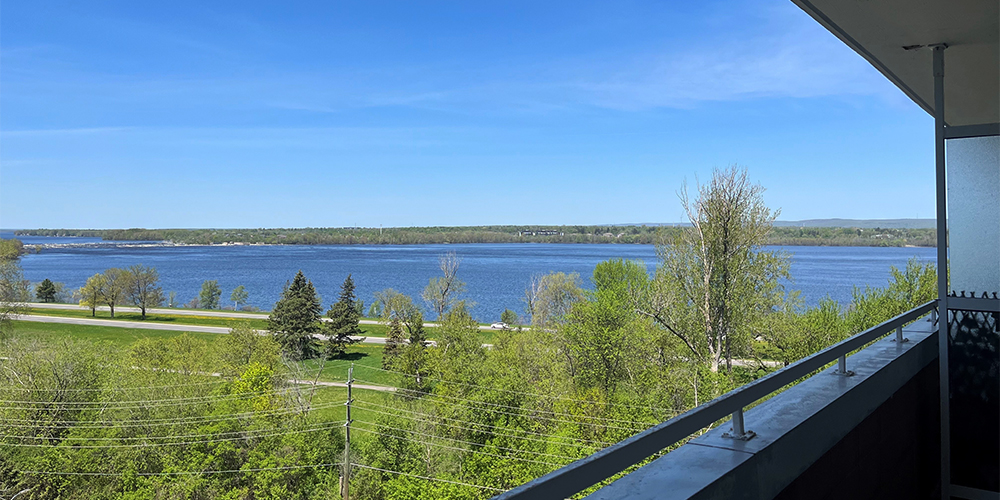 1. Location is Everything
Centrally located and close to all the essentials, the Parkway Towers property is leafy and parklike – perfect for that "out of city" feeling. Down the street is Richmond Road offering grocery stores, restaurants and easy access to bus routes and major roads. Nearby is Westboro Village, a vibrant neighbourhood highly recommended for its charming cafés, restaurants, and shops! Close by are two shopping centres, Carlingwood and Bayshore. A short bus ride or drive from downtown Ottawa, you'll love coming home to Parkway Towers.
Go on a virtual adventure of the area on Google Maps!
2. Amenity-Rich Building
At Parkway Towers, you'll be greeted with a well-appointed hotel-style lobby. Next, you'll enter your bright, spacious suite with an oversized balcony to upgrade your morning breakfast routine, many with breathtaking views overlooking the Ottawa River and Gatineau Hills. Take advantage of the private fitness centre to stay motivated in your wellness goals. Or make your way to the massive green space great for outdoor exercise, taking your dog for a quick walk or sitting outdoors with a good book. Other building amenities include laundry facilities, storage lockers, keyless entry, and video surveillance for added security.
3. New Platinum Suites
We are continually updating our buildings because appearances matter when it comes to your home. The new platinum suites at Parkway Towers feature all new stainless-steel appliances and granite countertops for the cooking fanatics among us. New doors and cabinets throughout and a modern open concept design make these suites fantastic for entertaining and clear sightlines. High-quality LVP (laminate vinyl panels) floors, including laminate vinyl tiles, add a touch of luxury to each apartment, making each platinum suite a great place to live long-term! Other amenities include individual thermostats and walk-in closets. Select suites include an eat-in kitchen, dishwasher, ensuite bathroom, hardwood floors, and ceramic floors.
4. People-First Property Management
At Osgoode Properties, we are proud to be a family-run company with an extended family of long-term staff. We have strong roots in Ottawa and are dedicated to helping our neighbours and residents thrive. We take great pride in the condition of our properties, which is why we have dedicated live-in superintendents and building managers. Our on-site team at Parkway Towers respond quickly to requests and take a proactive approach to property management, always looking for opportunities to make the rental experience better and our residents feel at home. We have a few more upgrades in the works at Parkway Towers, including a new main entrance canopy to greet residents and guests in style and Snaile parcel lockers to ensure the safety of incoming packages. Renovations to the laundry facilities will make laundry day a little more enjoyable, and new beatiful flower beds with handrails. Learn more about our people-first service and company history by visiting our website.
5. It's All Here!
Whether you're looking for a studio, 1, 2, or 3-bedroom apartment, we've got you covered at Parkway Towers with a variety of options and floorplans. Choose from our classic or upgraded pet-friendly suites. Water utility is included in rental costs, and outdoor parking is competitively affordable at a monthly rate of $60. Our online resident portal makes paying rent or submitting maintenance requests easy. Parkway Towers is part of the Ontario Certified Rental Building (CRB) program, so you are sure to rent with confidence!
Let us welcome you home to Parkway Towers! To learn more or view floorplans and availability, visit our website or call 613-688-2222. There is no time like the present to make your best move with Osgoode Properties!