Residents of Osgoode Properties are no strangers to the harsh winter weather, especially for those in our Ottawa and Edmonton communities. The season is filled with icy pathways, slick road conditions, home heating issues, and more. While each of our buildings have on-site managers who maintain the property, inside and out year-round, there are a few things we can all do to help ensure we are ready for the colder weather.
Here are our top tips to help you get your apartment winter ready.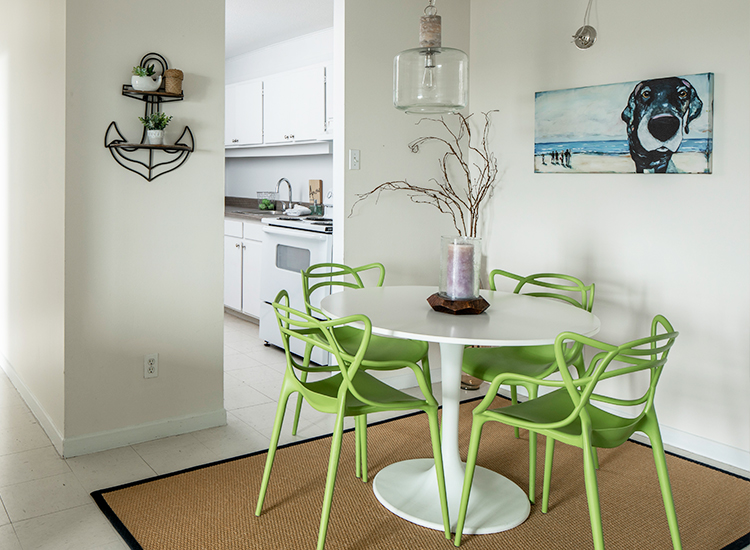 Kitchen from
Le 700 St. Joseph
Keep Your Pipes Warm
Water in pipes can freeze and expand in the winter, causing pressure that could result in them bursting. If you are planning on escaping the winter season for a warm getaway, you can help stop pipes from freezing by keeping your heat set to a warm temperature and by opening cabinet doors to help circulate warm air around the plumbing. You can also let your building management team know so they can keep an eye on your unit when temperatures dip below zero. Always check that your drains are clog-free and emptying correctly. Here are some warning signs that may spell trouble in the winter:
Water is not coming out of your faucets, or the pressure has lowered
There is frost forming on the pipes in your kitchen/bathroom
There is an odd smell coming from the drain
If you notice any of these warning signs, please contact building management. Remember, don't use antifreeze to try and resolve this issue on your own! It's hazardous to your health and the environment.
Dust Off Your Air Vents
With the transition to cooler weather, check the radiators throughout your apartment to ensure furniture, drapes, and rugs aren't blocking air flow and preventing the heat from circulating. Open air vents to check for dust and debris, which can be vacuumed or wiped with a damp cloth – and don't forget the air registers on the ceiling! When you place your hand near your windows, do you feel a small draft? If so, you can apply a window film, add a homemade window stopper, or ask your building management to update the window's weather stripping. If you experience any issues with heating in your apartment, despite completing your winter checklist, please contact your building manager for help.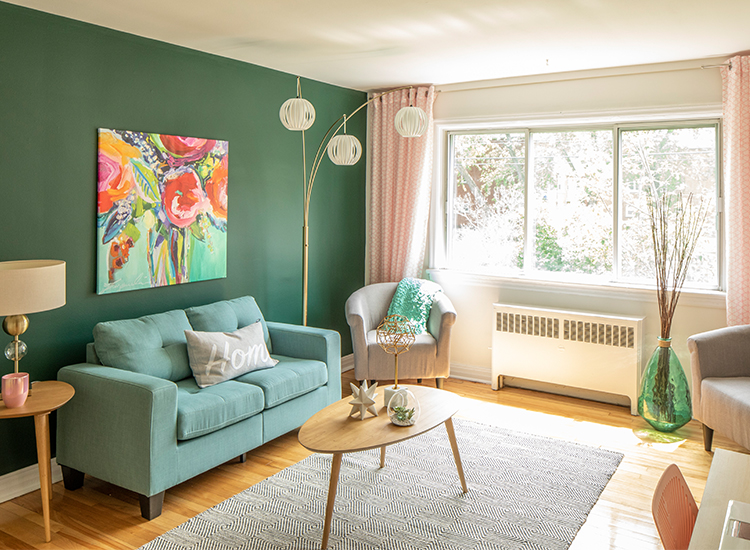 Living Room at
Eastwood Park
Create a Cozy Interior
Investing in warm flannel sheets for your bedroom is a great way to keep cozy in winter, so is updating your living space with new throw blankets. Candles are always a nice way to add warmth to a room and save energy but be mindful when lighting them in your home. Never leave an open flame unattended and keep it away from children and pets. If your apartment has hardwood or tile floors, add an area rug to help keep your feet warm. Rugs in entryways are also a great way to avoid slips and wipe off snow-covered boots. They can also protect flooring from harsh road salt being tracked inside.
Add Some Foliage
Greenspace is hard to find in Ottawa and Edmonton's cold winter months. Adding house plants to your space can brighten it during the dark of winter. Choose low-maintenance plants with lots of foliage, but make sure to place them away from drafts and in a spot where they get proper sunlight. If you have pets, research your plants ahead of time as some can be toxic to animals when ingested.
Winter-Proof Your Car
Car maintenance is especially important in the winter months. If you park in an outdoor lot, always brush off your car and tires before venturing out. Keep extra windshield washer fluid (specific for winter) on hand and a compactible shovel in your car trunk. When the temperatures dip below zero, start your car and let it run every couple of hours to avoid a dead battery. Always allow yourself some extra time in the winter to travel and be cautious on the roads.
Be a Good Neighbour
At Osgoode Properties, we value community. We can all do our part to keep each other safe this winter. Please notify management if you see any of the following hazards:
Shingles coming off rooftops
Branches that are hanging low over pathways, roads, and front building entrances
Any areas that could collect water and become ice
Snow accumulated and blocking the front of the building and emergency exits
Now that your apartment is winter ready it's time to enjoy the season! Need some inspiration? Check out this post for some fun ideas: Winter Activities: How We Do It In Canada.