It's the most wonderful time of the year – the holiday season has begun! December is filled with celebrations, plenty of food, laughter, and gift-giving. Whether you're attending a party or you're a host preparing, there is a lot to do to get ready. For our Osgoode Properties residents hosting this year, with a little bit of planning and some organization, you can minimize the worry we all know that comes with it.
Here are five tips to help you host your best holiday gathering: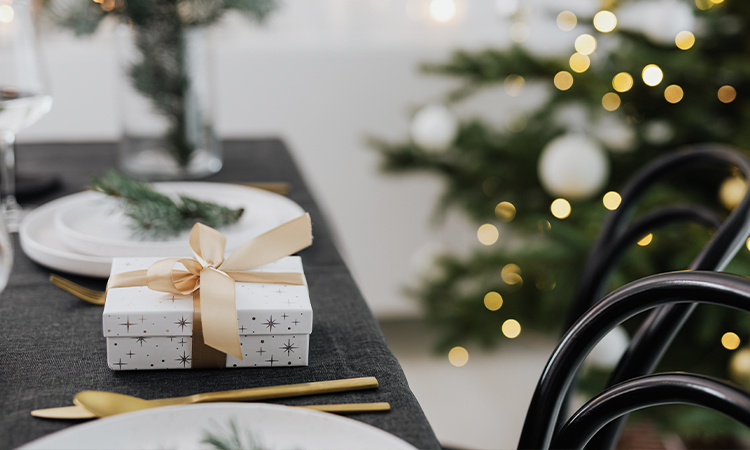 1. Make a List, Check It Twice
Writing a list is a great way to stay on track and minimize anxieties. Start by writing down tasks that absolutely must be completed before your event (gingerbread cookies and eggnog, anyone?). Assign due dates to everything and try your best to stick to them; scratching each task off the list will feel so good! Science has proven that writing down what you need to do helps your brain retain the task and subconsciously work toward it. Organizing the list by priority makes it feel more manageable and as the list gets smaller and smaller, your brain releases dopamine, triggering feelings of happiness (it's true!). And, if anything, a list can make it easier for you to delegate jobs if you need help.
2. Give Guests Some Space
Move your furniture around to create an open-concept area that gives your guests some space. Place furniture around the perimeter of the room and use folding chairs for additional seating if you need it as they can be tucked away easily when not in use. Set up stations throughout your apartment to help traffic flow in, beginning with a coat and boot station where your guests can change out of their winter gear as they arrive. Their next stop could be a cocktail station where people help themselves to a holiday cocktail before making their way into the main entertainment area. Making sure that the traffic flows will help your apartment feel more open.
3. Clean up the Clutter
Before guests arrive tidy up any clutter in your entertainment area. Utilize storage space to store items that are taking up too much room or are unnecessary, and clear off your countertops to free up space for drinks and food. Make sure to swap out old or dirty dish rags and sponges for clean ones and stock up on garbage bags. The clean-up from a party can be just as much work as the prep but placing bins throughout your apartment for guests to access easily can help as much as cleaning as the night progresses.
4. Keep it Simple
It's time to decorate! Oftentimes less is more when it comes to holiday decorating so as not to make your apartment feel overcrowded. Instead, go for a more minimalist style and pare it back this year. Save money and use what you already own or check out the local thrift store for items to repurpose. Stick to neutral colours and add small pops of colour throughout. It's fun to gather greenery from outside and add it to doorways, drink/food stations, tables, etc. If you can't help yourself and want more décor (we've all been there), look for classic items that will stand the test of time and become part of your collection for years to come. Consider anything you can use throughout the year too, like white candles or serving platters.
5. Light Up the Night
Add a little bit of magic to your apartment with some LED string lights! They come in all shapes, sizes, and colours – from tiny globes to Edison-style bulbs in bright white, warm tones, and many different colours. The best part? You can find them just about anywhere these days! String the LED lights around your window frames, sprinkle them around the table to accent the dishes you're serving, or cluster them in tall, clear vases to create beautiful centrepieces throughout your home. Twinkling LED lights add that extra special touch around the holidays, too. Or, if you're looking for something a bit more luxurious, opt for some scented candles (or pair them with the string lights!). Find candles that smell of fresh pine trees, smouldering fires, gingerbread, cinnamon, oranges, cloves, vanilla or peppermint and your apartment is sure to smell like Christmas!
With these 5 tips, we hope you can minimize any stress around holiday party planning so you can enjoy having your friends and family into your space. And, most of all, have fun while showing off your hosting skills!
Looking for more ways to make the most of your apartment? Check out our blog: How to Spice Up Your Apartment on a Budget.